Our trailer "Pallepingvin" is our "home". We have a heavy duty expedition trailer from South Africa. We have put a normal rooftop tent on top of the trailer.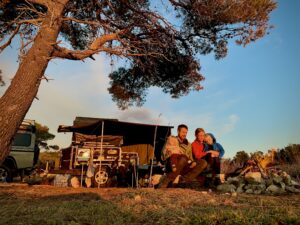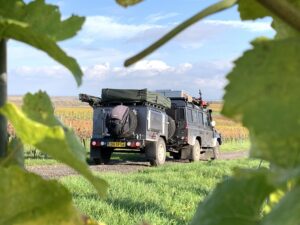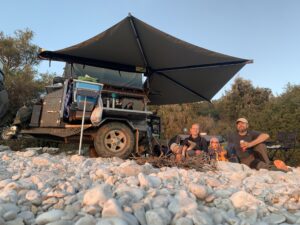 We got the trailer in order to have more comfort while camping and because we wanted to be able to go camping for a longer period of time with out resupplying. In addition, Bassebjørn is registered as a bus which lower the annual cost of ownership, but it also mean we cannot remove seats and make camping solutions instead. 
Expedition trailer attributes:
Trailer empty                                 840kg
Trailer with tent and awning       920 kg
Trailer with gear and supplies    1250kg estimated
Water tanks 140 Liter

 

2 x 105mHa batteries
16 Liter LPG gas-bottle (upgrade)
Eezy Awn T-top 180 rtt
Eezy Awn Bat-wing Awning
Pros
More supplies for longer off grid camps
More comfort for camp
Greater kitchen
You can leave camp without packing down and drive around "freely"
Cons
Takes more space for wild camp spots
Lose of off road capabilities, due to more weight, 2 "passive" wheels, bigger rig, etc.

 

Always have the "fear" of driving up on a steep mountain dirt road where you have to turn around in "no space" area
Often an expensive solution – especially in Europe
According to our user experience for overlanding, it is preferred to avoid a trailer if you can. In the end, it all depends on the type of trip you want and where you go. Often, we tend to go on bad roads and sometimes we have to "struggle" more when driving with a trailer. We also find it a bit more time consuming to find a wild camp spot big enough especially for turning around. However, the perfect rig does not exist – you alway have to make compromises on certain things. In the end, you will have an adventure no matter the rig.