Our fifth family member is "Bassebjørn" and he is a strong and good looking Land Rover Defender 110 Td5 in his best age – "born" in 2006. He had 122.000 km road experience when we adopted him in October 2018.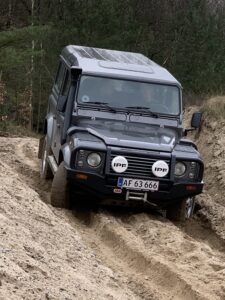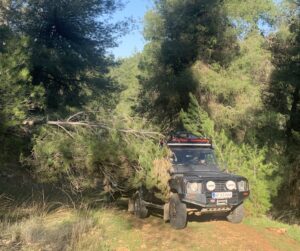 It just feels So nice to be a Defender owner and we love all the spirit around these cars. It has lead us to meet so many nice people. The recognition and "street-credit!" is high when you drive a Defender, and often someone come up to have a chat just because of Bassebjørn. In this way, Bassebjørn has some similarities with our children – he open doors.  
My wife never expected to have a "relation" or "feeling" for a car – but that is what happens when you get a Defender – also for my wife. For us it is not only a "Land Rover"…..it is a "Land Lover".
Bassebjørn is happy most days and doing a great job. However, he also puts on is no-hat sometimes just as our children. Especially, on our test-trips around Europe he made sure we learned to know some very nice mechanics. We had 3 visit to mechanics (2 smaller things and one big thing). However, all were outstanding adventures and experiences with so nice people – like a mechanic inviting us to overnight in his home, free repair and a lot of smile along the way…we are looking forward to our next breakdown. 
Actually, Bjørns first car was a Defender – so once you go Defender – it will always be in your blod. Also the whole Land Rover community around the World is special and also a central point in our travel adventure. We just love meeting people – and oh boy – what a great karma you can meet with other Land Rover lovers:) 
Upgrades on Defender
There are plenty of ways to spend money on gear and upgrades – and so we did. Our focus for the upgrades has been that it should serve a purpose and not just look cool. However, it does look cool – no matter what you do or put on a Defender.
My favorit upgrades have been:
Upgraded from 80 til 127 liters. This means we typically has to refuel on every 1000km when driving on different type of roads. 
Just love all that light. It become daylight by night which is good for an "old" man like me and my pour eyes – not only when driving but also for finding a camp spot after sunset.
Not only do we have a cabin heater installed in the car, but we also made a special solution, so we from outside can connect a tube and in that way get heat up in the tent on the trailer. Please see more details in our section "Cabin Heater Solution"
We are very happy we got a winch installed. I heard from a lot of people that you don't need a winch – and if you have one you only use it to help other cars. However, we have used our winch several times, but of cause lot of these "problems" can be avoided by "decision making" and finding a better road – but we tent to keep exploring and find challenges…..or just making bad decision and get stuck:) 
600W Inverter for 220 volt
It is so nice especially when traveling with kids, as the computer with DVD player needs to get charged. Otherwise, most electronics can be charged by 12 volt usb. 
Other upgrades:
Bullbar: ARB Defender

 

Winch: WARN Tabor 8k 12volt

 

CE 3600kg
Safari Snorkel
LED Bar:

 

Roof rack: Defender 110 Slimline II Roof Rack by Frontrunner
Safty box under floor – Offroad-Tec
Anti thief fuel cap lock
Spare wheel carrier swingaway

 

Rear bumper – Rear NAS Tow Step (then better acces to trailer handle)

 

Work lamps rear – (makes it easier reversing with trailer when it is dark).
Air compressor 12 volt ARB
Cabine heater Webasto 2k
2 batteries

 

And more upgrades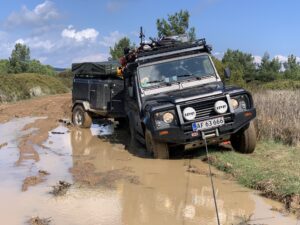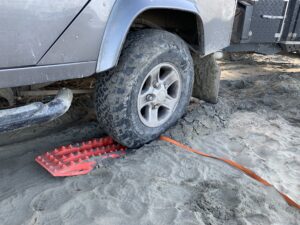 Gear for Defender
Another good way of speeding money – is on recovery gear. There are many options and here are a few of what we brought for our trip.
My favorit gear has been the sandplates and they works outstanding good.
Gear:
Sandplates – MaxTrax
Recovery Gear: ARB Premium Recovery Kit (snatch strap, tree trunk protector, recovery damper,

 

block, 2 shackles)
High lift
High lift adaptor
Hydraulic jack 3 tons
Showel

 

And more "stuff"