Most of our days can be divided into two "categories" – either we are driving in the car or spending the day at a camp spot. Our day starts when Vilmer wakes up. For some reason, he is always the first one to wakeup in the morning. We then make breakfast (it can be different things like toasted bread, pancakes, oat flakes, the, coffee and milk for the children).   
If we are spending the day at a camp spot, we mainly do different activities such as playing with the children, go for a walk and explore the surroundings, practical things in relation to the car and/or trailer, planning for the next destination. Sometimes Bjørn needs to work, we update our dairy and sort out pictures. Especially, updating our dairy and sorting pictures are ongoing taskes we never really finish. Bjørn also takes a lot of pictures during the day just in order to make sure we never will finish sorting pictures. And Vilmer spend almost the same amount of time on telling Bjørn not to take pictures of him. 
We try to involve our children as much as possible in the things we are doing, but we also have days where they prefer to watch cartoons (we have a computer with us where they can watch DVD).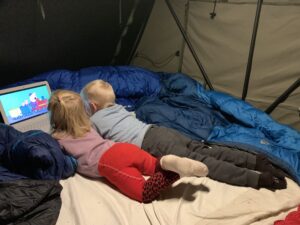 When we are driving, we start packing everything after breakfast, so we are ready to drive around 11 o'clock. We often stop at a supermarked, a turist attraction or playground on the way, and we often try to drive on smaller roads instead of the shortest way from a to b. During the drive we eat different snacks such as biscuits and fruit. We always aim to setup camp about 4 o'clock, so we have some time at the new camp spot before it gets dark.   
In the evening, we eat dinner and sometimes we have a bonfire. We normally read a bedtime story before putting the kids to sleep. Most days, our kids are at sleep around 8 pm.